San Mateo, CA – 12 September 2017: Adherium, a digital health company that improves medication adherence and patient outcomes, today announced it has released SmartTurbo Model 4, the next generation of the company's adherence monitoring technology, for AstraZeneca's Turbuhaler medication.
SmartTurbo Model 4 includes usability improvements to make the installation and removal of the Turbuhaler easier for older patients with COPD. The device also features a series of new larger buttons that help patients easily access new optional device features, including audio visual-reminders, battery monitoring, and Bluetooth low-energy (BLE) pairing. The company has also added new sensors to generate more data for monitoring and providing feedback on correct use of the inhaler for priming, inhalation, and closing of the medication at each use. The release of SmartTurbo Model 4 is the company's second SmartTurbo device release in two years.
Arik Anderson, CEO of Adherium, said: "We believe that SmartTurbo Model 4 will address a key unmet need for patients with asthma or chronic obstructive pulmonary disease by monitoring and improving adherence to their medications. We are now demonstrating the ability to design, obtain regulatory approvals, transfer to production, and release to market, on an annual cycle – improving the device with each successive generation."
AstraZeneca and Adherium have a long term strategic partnership to deliver scientific breakthroughs to transform the lives of people with Asthma and COPD.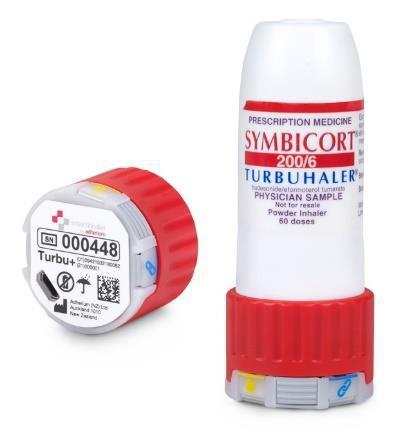 The SmartTurbo Model 4 is currently being demonstrated at the 27th International Congress of the European Respiratory Society (ERS), being held at the MiCo Milano Congressi in Milan, Italy, from 9-13 September. It can be viewed at AstraZeneca's booth L.01 or Adherium's booth P.12.
Adherium's Smartinhaler™
Adherium's innovative Smartinhaler™ product platform integrates a Bluetooth enabled sensor and smartphone application to detect and record actual usage of inhaled medications. The Smartinhaler provides patients and physicians with critical data that can increase adherence to inhaled medication regimens, resulting in improved management of chronic respiratory conditions. Used in more than 70 projects and referenced in 65 peer reviewed journal articles, the Smartinhaler's clinical outcomes data have proven that it can improve adherence by up to 59% in adults and 180% in children. These improvements were associated with a 60% reduction in severe respiratory episodes in adults, leading to improved quality-of-life and demonstrating a substantial gain over current best practice treatment. The Smartinhaler has received FDA 510(k) notifications for clearance to market and CE Marks for its devices and software.
Adherium has a variety of Smartinhaler device configurations that are compatible with multiple medications, and the company is strongly positioned to realize the clinical and commercial value of its technology among key customers, including caregivers, insurers and hospitals. The company recently announced the sale of its 100,000th Smartinhaler.
About Adherium
Adherium is a provider of digital health solutions. The Company develops, manufactures and supplies patients, pharmaceutical companies, healthcare providers and contract research organizations with the broadest range of "smart" medication sensors for respiratory medications to address sub-optimal medication use and improve health outcomes in chronic disease.
Adherium operates globally from bases in the USA, Europe and Australasia.
Inquiries
Company:
Arik Anderson, CEO, ArikA@adherium.com, contact@adherium.com, www.adherium.com
Media:
Europe: Sue Charles, Instinctif Partners, Phone: +44 20 7457 2020, adherium@instinctif.com
United States: Dawn Fallon, Lazar Partners, Phone: 646-871-8481, dfallon@lazarpartners.com
Australia: Rudi Michaelson, Monsoon, Phone: 03 9620 3333, rudim@monsoon.com.au